Let's get the allergy part out of the way. Are you allergic to any fibers?
No.

Do you prefer any fibers over others?
I don't like acrylic, but some blends are nice. I really like alpaca. And wool. I haven't knit with linen yet, but hope to sometime. I like all natural fibers, but don't like the idea of a cotton scarf.

Thinking back to Scout's post about what funky means to you, post an image of something that you think is funky!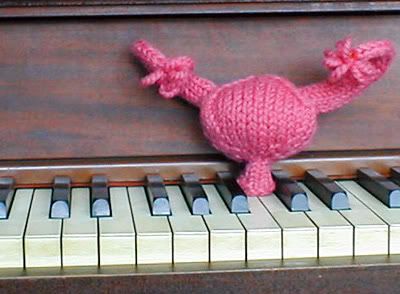 Not as funky, but I like it: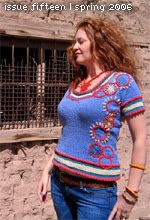 I like the embroidery up the side.
Would you prefer funky yarn or a funky pattern?
Funky pattern
What are your favorite colors?
I like lime green, jewel tones, and bright or dark purple (more toward the blue side, not the red side). Pairings I like are lime green & hot pink, red-orange and turquoise, and bright jewel blue and silver.
What is your favorite piece of art?
I would have too hard a time deciding. I like Robert Rauschenberg, Dave McKean, Daniel Essig, the Pre-Raphaelites, Anne Geddes, and tons of others.
What colors would you never have up close to your pretty face?
I have no idea. Probably orange or yellow.
Would you prefer an actual scarf or a cowl?
I would prefer something that I didn't have to pull over my head.
When you wear a scarf do you prefer a wider/shorter scarf or a thin/long scarf?
Medium to thin width and medium to long length.
What is the climate like where you live?
North Alabama - cold enough for a scarf, but sometimes it would be more decorative than functional
Would you prefer a functional scarf (to keep you warm) or one just to funk-up your wardrobe?
One that would do both! Or one just to funk-up the wardrobe while using the cold as an excuse to wear it.
What else would you like your partner to know about you?
I am mostly a t-shirt and blue jeans type person, but I like classic / lacy / feminine stuff sometimes, too.