Okay, so I'm going to try the knitting blog thing...
I have this scarf / shawl thing that I designed a pattern for. Problem is, I put it aside for the Christmas present production rush, and when I picked it back up, I'd forgotten some things.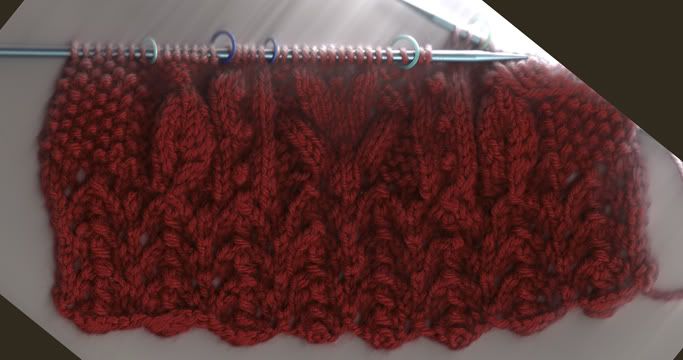 The most pressing problem is the popcorn. On either side of the Norwegian Fir in the center is a 5-stitch section of stockinette with a popcorn every fourth row. I think I was trying to get over my fear of popcorn when I designed this - not fear of making them, but fear of how they look in a finished garment. Anyhow, I forgot how I was making them, so I looked up 'popcorn stitch' in a couple of my reference books. The result was WAY HUGE! So I'm stuck. I'll try to sit down and figure it out when I have a little more time. Maybe someone out there knows. Maybe someone out there will read this...someday. I'm not holding my breath.
My second problem is that I didn't diagram the rows I begun the scarf with. That shouldn't be too much of a problem. I do realize now that I'm going to have to start the other end and graft the two pieces somewhere in the middle... Oh, well.