"CO however many stitches on dpns, arrange stitches equally among the needles, place marker and join for working in the round."
Okay, I followed that direction a couple of times for different projects. Each time it resulted in me having one less stitch marker. If you're using dpns, why do you need to place a marker? The intersection right above the cast on tail is the beginning of the round! And who can keep a marker on the end of a dpn, anyway? Those directions are just silly. Please, someone, correct me if I'm wrong. Maybe one of these days I will be halfway through a project and knitting karma will slap me down and I'll wish I had followed the directive, but I can't see why.
Something else I couldn't see why: knitted cupcakes. Sure, they're cute, but why? It seemed like a waste of energy. Until my two year old saw them on the computer screen. She now has this: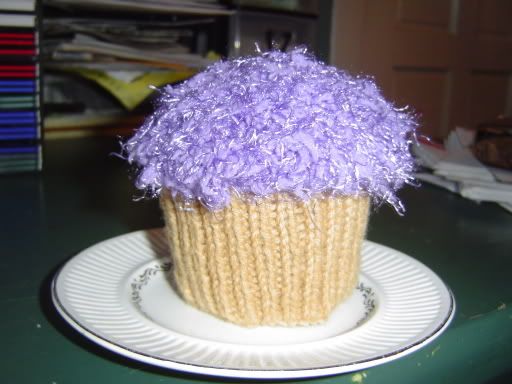 Technically, it's a FO, but since I began it today it doesn't remove anything from my WIP list. And I keep finding more WIPs.
I do know one thing. That purple yarn (which was picked out by my mother in law for her Christmas scarf - one of the WIPs) will not be used for anything else once that scarf is done. It is a sticky mess. And the pattern called for needles small for that yarn - US 9's. And I didn't have 9's, I only had 8's. And they were bamboo. I was muttering under my breath by the time I was done.
...and now, for more exciting news...
I have new cubbies in the basement! We are totally rearranging down there. The room that used to be the computer room (the laptop doesn't need its own room) will hold my huge honkin' floor loom. Which will open up space in my downstairs fabric / yarn area. In there will go this: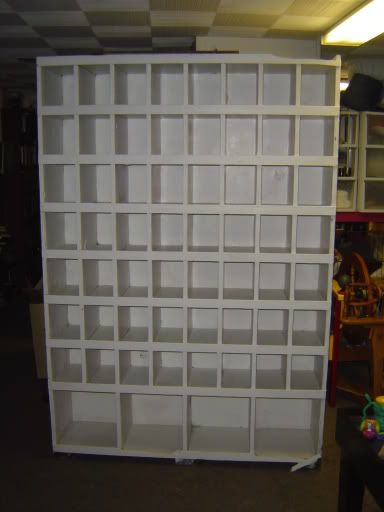 ...to hold all my yarn and WIPs! Hopefully, it will all fit. The larger squares at the bottom will hold knitting & spinning books and the smaller squares will hold yarn, WIPs, unspun wool & other fibers, and probably a couple of boxes to hold my spindles and needles. Any books that don't fit on the bottom will go sideways on top. And there's more: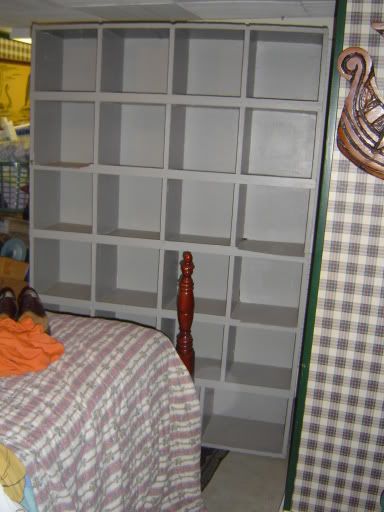 This one will hold my fabric. And I managed to get not one, but
two
viking ships in the background.
I forgot to mention that there are cubbies on both sides, so the yarn will be outside in the area with my big comfy green chair and Joe's chair & the TV, and the other side will face into my sewing area.
Unfortunately I have a lot of cleaning & organizing to do to get everything where it goes.
Fortunately, I have a happy daughter!