I have made much progress in the yarn/fabric area downstairs. All of the furniture is where it goes, except for the loom, which is in the right room at least, and the loom's bench. I can see all of my yarn at a glance! I am debating whether or not to bag the wool to keep it safe. I will post pictures when I finish.
I also wound up some cotton. When I dyed the blue wool, the dyebath was not exhausted, so I threw in some crochet cotton still on the cardboard tube, hoping it would resist the dye in places. Well, it did: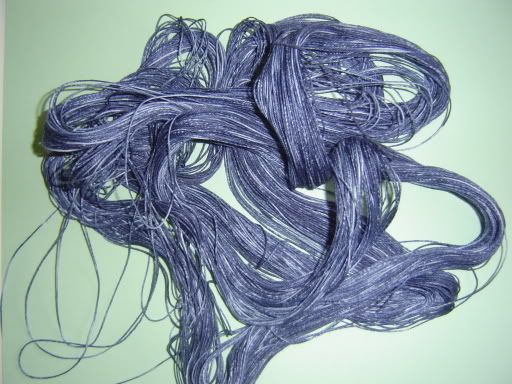 One tube came out darker than the other, especially the half that was toward the outside. I wound them into balls today: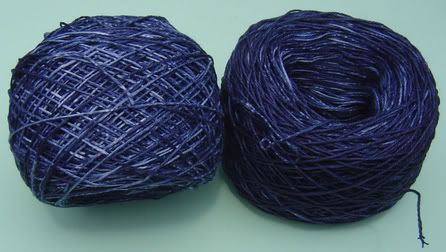 You can see how one is really dark on the outside and more varied on the inside. I don't know what I'll make with this - probably at least one headband, but then I don't know what. Maybe I'll try beading with it. Does anyone have any ideas? Is anyone reading this?
I think I need to wind some Sugar 'n Cream tightly onto a cardboard tube and throw it in a dyebath and see what happens. Hmmm...