The Funky Scarf Swap scarf will go in the mail as soon as it's dry. Maybe tonight. This is how it looked when I got done with it: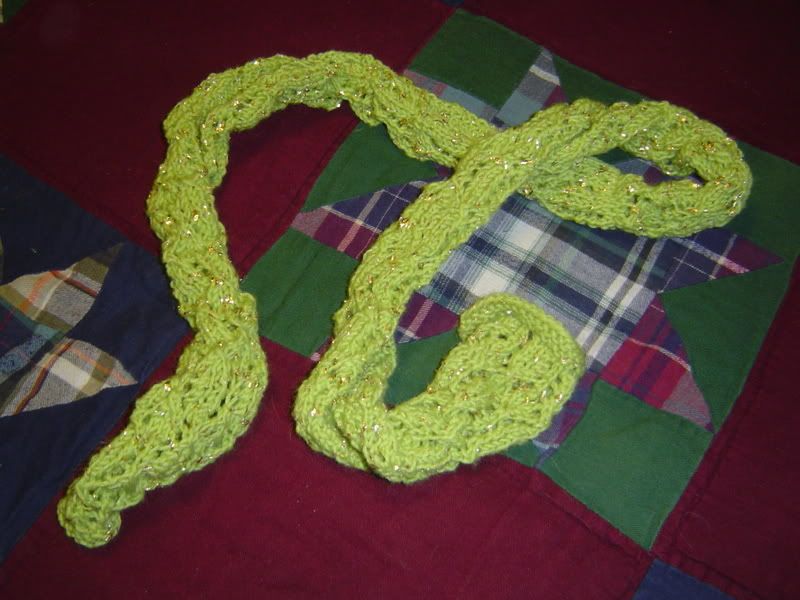 I attempted to block it. I wet it and gently squeezed out the water. I spread it out and tried to get it even. All the pictures I've seen of blocking something in a lace pattern were lightweight shawls with points where the pins are all in the pointy bits. I didn't know how to block something with straight sides. I didn't have a whole lot of pins, either.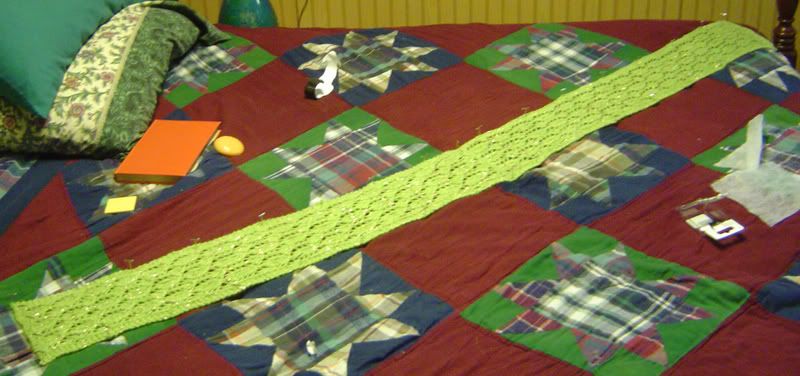 Does this look right at all?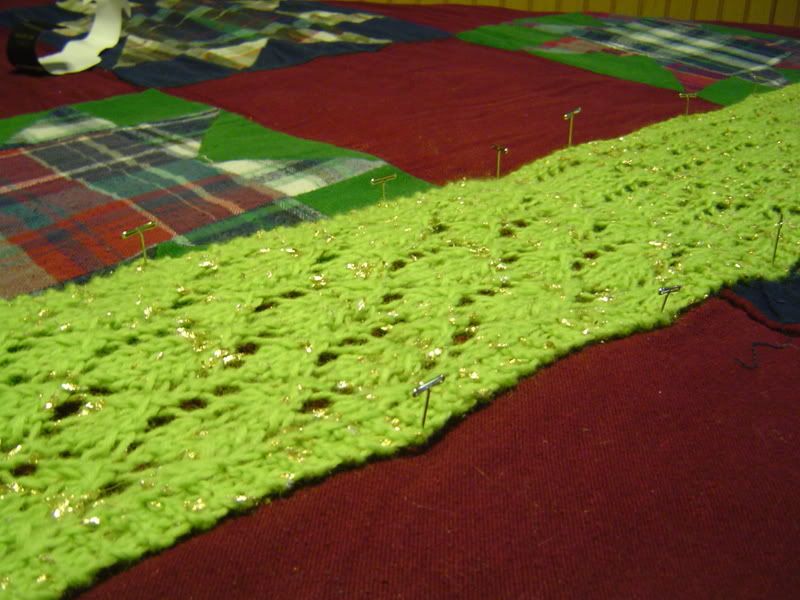 You can see the pattern better. You can also see the big honkin' error where I made a leaf two rows too long. See it?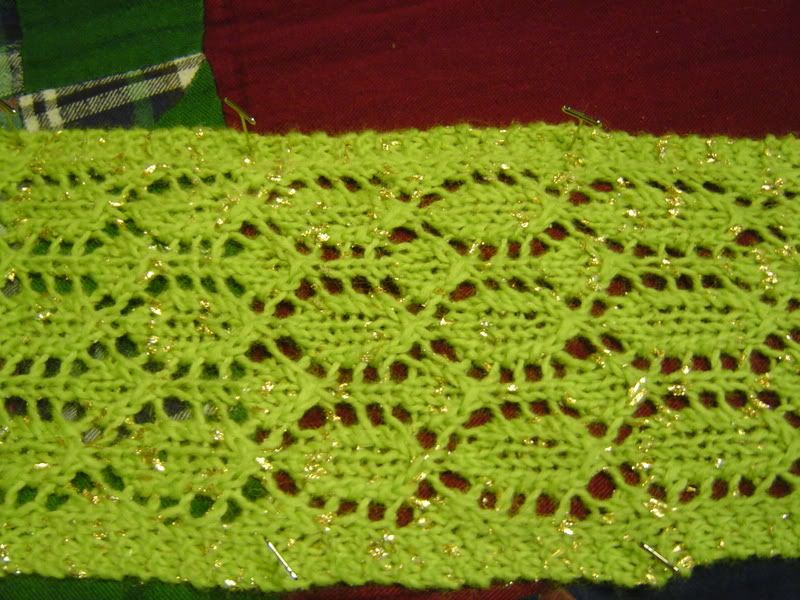 After I finished that (and lots of projects for school), I went through to organize my UFO piles. And I cleaned out my knitting bag. I have FORTY (count 'em, 4-0) UFOs. Seven of them don't really count, as they are in the bag with the pattern and yarn and haven't been cast on, but 33 have been cast on and started. And that's just what I found walking through the house! I didn't look in the pile o' stuff by the bed or downstairs beside (and behind) the recliner.
The first ones I need to finish are these: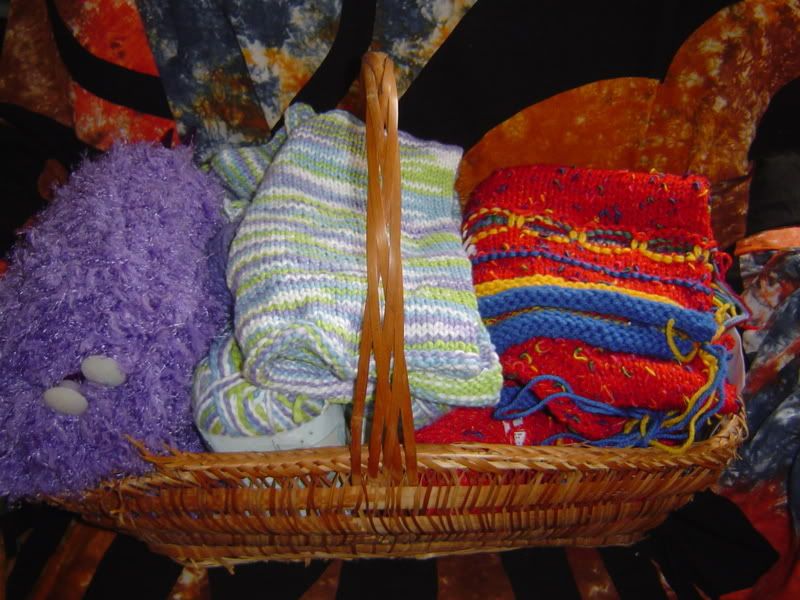 From L to R, Mona's scarf (a present from LAST Christmas!), a baby sweater (the baby is now a toddler, but I could finish it for my niece), and Lorelei's sweater (started two years ago, but I had enough foresight to start it big - but she can wear it now and I need to finish it before it gets any cooler).
I also combined and sorted the others, kind of: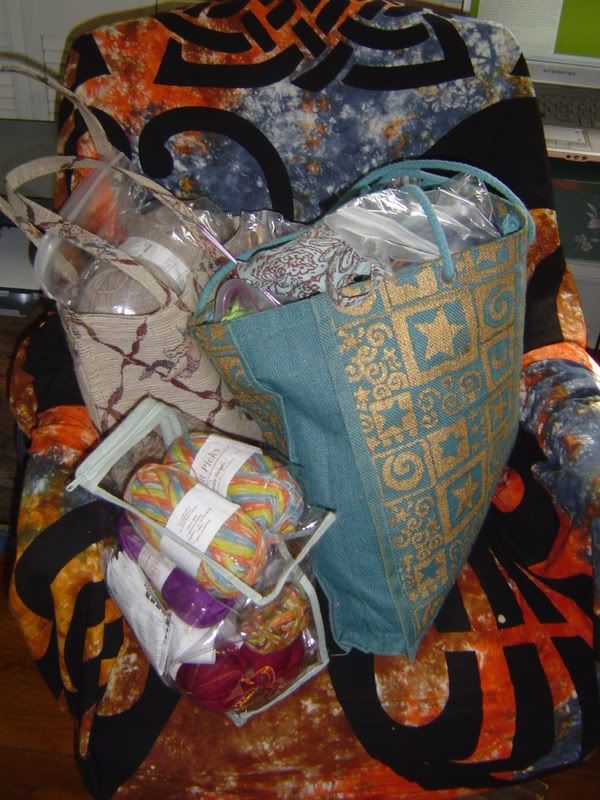 The clear bag is 2 pair of fair isle socks, the smaller bag is all my unfinished socks and fingerless gloves (except the pair in my purse and the pair by the bed), and the big bag holds everything else.
Doing this helps me get excited about some of my old stuff and (hopefully) inspires me to finish something. I used to make up rules, like finish two before I can start a new one, but that doesn't work.
I also got mail - my husband called me at school yesterday and said I had a box. "It looks like yarn." I had him dig farther - "It looks like that stuff you had on the porch last week," meaning some unspun, unprocessed wool.
It was this: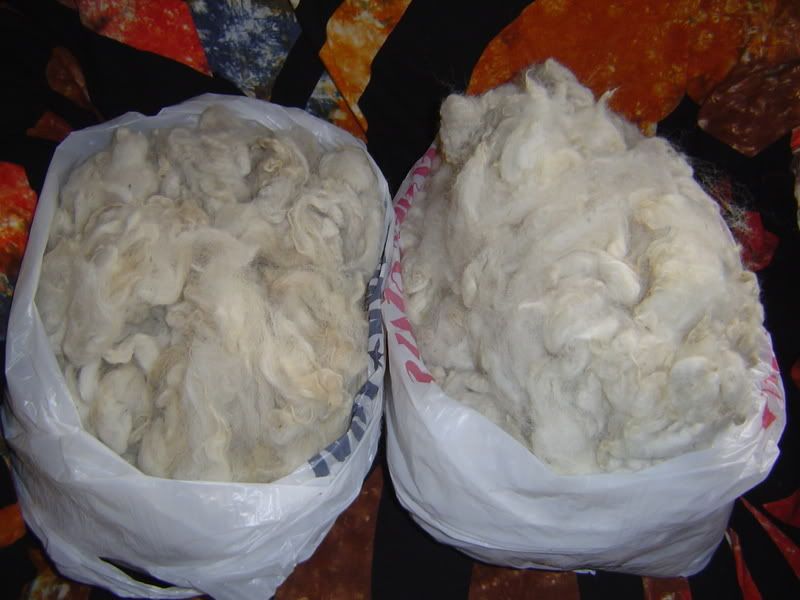 Raw alpaca. I swapped some Knit Picks needles for it on the Knitty boards. It came with this: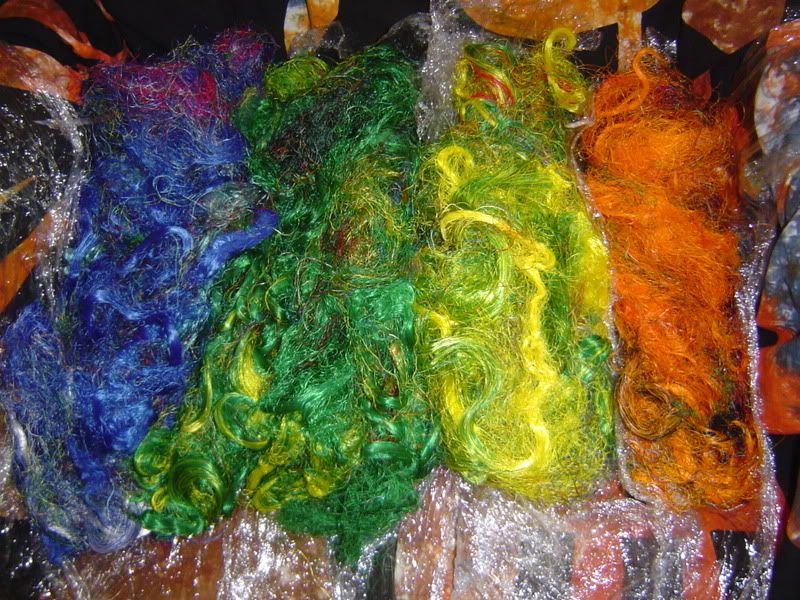 Unspun recycled sari silk! I have never spun any, and it looks to be quite the adventure.
I just read what I just typed. My standard of what constitutes "adventure" has drastically changed over the past few years.
Now I just need to find info on spinning sari silk...