I really like the Options needles. I also bought some of the (non-interchangeable) circular needles in smaller sizes than are available in the set, and I think the joins on the set are smoother than on the circular needles. The Options needles are much smoother / "faster" than the plastic Denise set, and I didn't have the problems that I had with the Boye set. I think the Boye set was aluminum and I constantly had one of two problems - either the needles would loosen and come off the cables, or, if I got them tight enough to prevent that, the bottom of the aluminum needle would flare out where the cable was screwed in and cause problems. Then I would have to get out a set of files, and thus began a vicious cycle.
Did I say that I really like the Options needles?
I have started the scarf for my funky scarf swap pal. I have started it (and ripped it out) six or seven times. I have never used yarn like this before, and am struggling to find a stitch pattern that shows it off to its best advantage. I'm now on the pattern I think I will use, but I may need to go up a needle size - I'm not sure that it's going to drape well enough at the size I'm at. The recommended needle size is US7 and I'm using US8's now.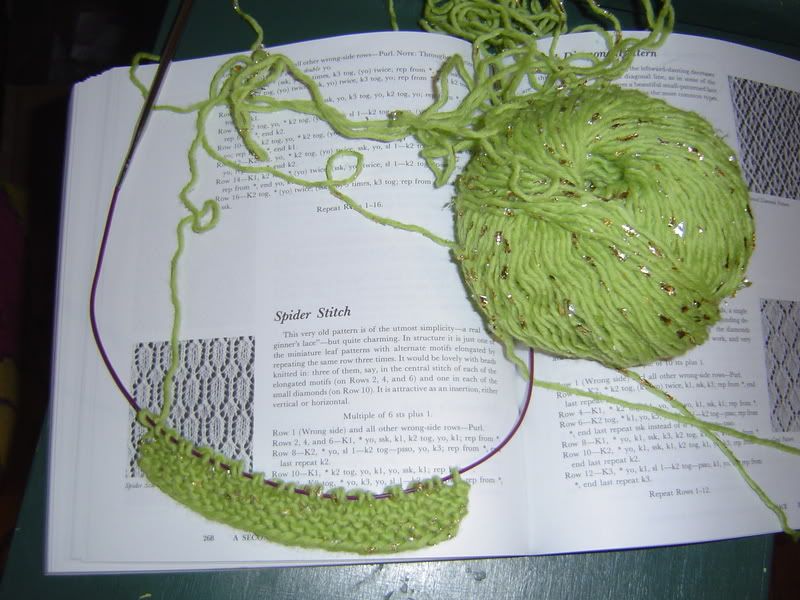 See the flecks of gold on the yarn? I hope that it's "funky" enough. I hate to use only one color. I'll do one repeat of the pattern and see how it is going to drape. It's not like I haven't frogged it a bunch already. It holds up fine, though. Glad it's not mohair!